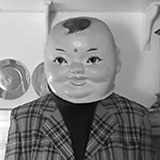 Salvador Carabante
ABOUT Salvador
"Ever since I was a small boy, I have had the need to express myself through art."
Salvador Carabante started creating art at a young age and has done so ever since. Living and working in Málaga, Spain, Salvador creates his unique, surreal artworks using mixed media techniques and materials such as acrylics, oils, varnishes and cellophane paper.
Salvador studied fine arts at the Manchester Metropolitan University, U.K. An experienced arts professional, Salvador has worked as an art director in the film industry and as a costume designer for films and theatre. He previously taught at MIA (Museum of Islmic Art, Doha, Qatar), specialising in workshops "Muslim miniaturism" and "Fibonacci´s Spiral and the Golden Proportion".
Salvador's main inspiration comes from a variety of artists of all times: Bacon, Goya, Chagall and German expresionists and surrealists in general. At friendmade.fm Salvador shows his colourful, surrealist scenes and portraits.
"My work is not an interpretation of the outside world around, but rather a description of the inside world. In that sense, my work always becomes a self portrait, not of the physical, but of the inner reality."
Salvador was curated by: