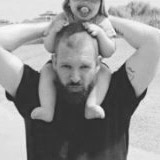 Stijn van der Pol
ABOUT Stijn
Enigmatic and ambiguous poetry and wordplay.
Stijn van der Pol is a dutch born, Germany based art director and graphic designer, working independantly for many national and international companies and brands such as Hutton Collections, Blackstone®, Nike, Adidas and Childpress.org, as well as for independant individuals such musician Ben van Gelder and Jazz Trio Tin Men & The Telephone.
As friendmade® founder and artist, Stijn shares his enigmatic and ambiguous poetry and wordplay with the world under the name w7b14~.
Stijn's inspiration: the lyrics and poetry of Leonard Cohen and the playful paintings of Jean-Michel Basquiat.
Curated by Stijn