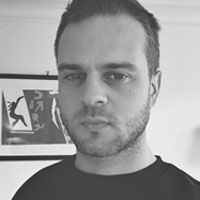 Guillaume Laserson
ABOUT Guillaume
Simple, bold, in-your-(type)face!
Guillaume Laserson is a Graphic Designer and Lettering artist from Paris, France. Guillaume's work is characterised by simple, bold, in-your-face, typographic letters or quotes placed on a colourful background.
Guillaume started drawing letters at a young age and has been practicing graffiti and graphic design since he was a young adult. Guillaume creates art on a daily basis. "I keep exploring the art of creation and create letters as often as I can, to increase the quality of my creations while exploring."
Guillaume's believe in the power of collaboration and people let him to join friendmade®.
"I want to offer my art to a wide audience and focus on seeing my customers happy. The unique way in which friendmade® lets its network of artists define its style, for me seems the perfect opening for collaboration and an authentic channel for expressing my art."
Some of Guillaume's inspirational influences are Ceizer, Obey, Martina Flor, Roman Cieslewicz and surely Picasso, Dali and many more.
Guillaume was curated by: